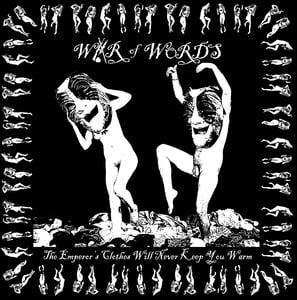 $

5.00
War of Words - The Emperor's Clothes Will Never Keep You Warm EP
Check out the track Faeries here.
Members of the War of Words collective have been a part of almost every Boston punk band you can think of, not to mention a few bands from outside of Boston . Most notably, member(s) of War of Words have toured with and recorded records with bands like The Unseen, A Global Threat, and Clit 45. What began as a side project existing only in record form eventually became a working band. After 5 years, 4 7"s, and one full-length CD, War of Words finally played their first live show in January of 2008.
Since 2008 War of Words has played consistently in and around Boston including a three week tour of the Northeast and midwest in August of 2009.
Over the years critics and fans have compared War of Words to a number of different bands but never the same bands twice, proving that War of Words has a truly unique sound that cannot be pinned down to any one style or genre.
The anticipated new release from War of Words is a four song banger touching the mythical to the political. Check out a track here: https://soundcloud.com/nes-records/war-of-words-faeries.
Side A
Cynicism is a Ghetto
Safety in Numbers
Side B
Faeries
Democracy
NES003
The record is pressed on mixed vinyl and limited to 300 copies.
290 Mix Colored Vinyl
10 Friends Press
6 Test Presses