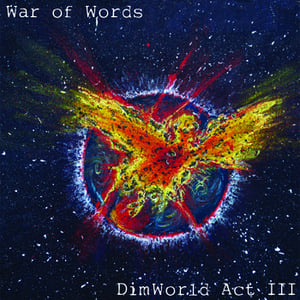 $

10.00
War of Words DimWorld Act III. Shipping Now!
War of Words

Members of the War of Words collective have been a part of almost every Boston punk band you can think of, not to mention a few bands from outside of Boston . Most notably, member(s) of War of Words have toured with and recorded records with bands like The Unseen, A Global Threat, and Clit 45. What began as a side project existing only in record form eventually became a working band. After 5 years, 4 7"s, and one full-length CD, War of Words finally played their first live show in January of 2008.
Since 2008 War of Words has played consistently in and around boston including a three week tour of the Northeast and midwest in August of 2009.
Over the years critics and fans have compared War of Words to a number of different bands but never the same bands twice, proving that War of Words has a truly unique sound that cannot be pinned down to any one style or genre.
DimWorld Act III, the highly anticipated follow-up to 2007's DimWorld Act II, concludes War of Words' concept album trilogy. (Act I is still in the works) Two years in the making, this record breaks new ground for the band's ever-evolving style. After four eps and one full-length War of Words has really defined their sound with DimWorld Act III. The added input of Producer Billy Brown(Ashers, Crash and Burn) make the album a true masterpiece from start to finish. Fans of War of Words have grown to always expect the unexpected. DimWorld Act III does not disappoint.
In preparation for the release of DimWorld Act III, War of Words has been actively playing shows more than ever before, including several solo acoustic shows. Upon the release of the new album, War of Words will embark on an acoustic tour of the East coast supporting Billy Brown. Expect to hear a lot more from War of Words in 2011.